"Suklaa"
Suklaa offers luxuriously rich products that you have been waiting for!
What is Suklaa?
Suklaa is an amazing mineral cosmetics brand, this line will have you feeling like a celebrity. They offer cosmetic, skin, and hair care products.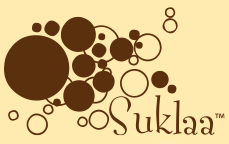 Formulated and created by
Cynthia Van Patten
, a Licensed Cosmetologist, Esthetician and successful salon and spa owner for 15 years, her color inspiration comes from your favorite celebrities and their signature sense of style.
What sets Suklaa apart from other companies?
This Suklaa product line is made with natural and organic ingredients (98% of ingredients used are Vegan ingredients!). Never tested on animals, Suklaa is the responsible product line you're absolutely going to love.
Suklaa Ingredient List
The Ingredient Definitions
Suklaa quality results without the high price. Benefit from the minerals that have natural SPF, water resistant, oil free (in the loose form), highly pigmented (a little bit goes a long way), gluten free, talc free,
parabin-free
, natural shimmer, and more.
Suklaa's mission is to be everything you will need it to be and more because they know the world is not just black and white. Suklaa products are all about addressing those grey areas. Grey areas such as different complexions, sensitive skin, and acne. This is the definition of Suklaa.
Cosmetics
Mineral Powders have taken the cosmetics industry by storm. They are beneficial for the skin, natural looking, and can be used in virtually any cosmetic. You're going to love this make-up!
Dermatologists and plastic surgeons prefer mineral powder cosmetics for their patients for post-procedure and post-surgery wear because they are so gentle on the skin. Studies show those with acne find that mineral make up actually improves their complexion.
Minerals on the Move
A complete mineral powder 9-piece starter kit. Each kit contains:
(2) 4g Mineral Foundations
(1) 2.5g Mineral Luminescence
(1) 2.5g Mineral Eyeshadow
(1) 2.5g Mineral Blush
1 Lipstick
1 Eyeshadow Primer
1 Shadow Brush
1 Original Kabuki Brush
You can order replacements separate*
Minerals on the Move Blush Refill
2.5g Mineral Blush
Minerals on the Move Foundation Refill
4g Mineral Foundation
Minerals on the Move Eyeshadow Refill
2.5g Mineral Eyeshadow
Minerals on the Move Luminescence Refill
2.5g Mineral Luminescence
Minerals on the Move Lipstick Refill
Lipstick
Minerals on the Move Eye Primer Refill
Eyeshadow Primer
What should you do now?
Don't just take my word for it, experience Suklaa for yourself!
Cynthia Van Patten explaing the Suklaa line
Micronized Titanium Dioxide Opacifier
http://www.organicmakeup.ca/ca/titaniumdioxide.asp
http://en.wikipedia.org/wiki/Titanium_dioxide

UV Blocker Zinc Oxide Sunscreen
http://www.nanozinc.co.za/zinc-oxide-uses.html
http://www.e-nterests.com/beautyhtml/mineralmakeupnaturalsunscreen.php

Skin Protectant Kaolin
http://www.truthinskincare.com/2008/02/kaolin-clay-on-our-faces-and-everywhere.html
http://www.essence-of-mineral-makeup.com/kaolin-clay.html

Zinc Stearate
http://www.essence-of-mineral-makeup.com/zinc.html

Magnesium Carbonate
http://www.livestrong.com/article/170693-magnesium-carbonate-uses/

Ultramarine
http://www.ecosevi.com/ultramarine.htm

Mica Mineral
http://www.essence-of-mineral-makeup.com/mica.html

Jojoba Oil Esters
http://www.acne.org/jojoba-oil.php

Binder Tocopherol
http://en.mimi.hu/beauty/tocopherol.html